Home -- Classes -- Supplies -- About the Artist -- Book
Galleries: Scarves / Shawls -- Quilts -- Improvisational Quilts -- Silk Paintings -- Silk Quilts
---

Workshops for Programs and Retreats
Gradient Magic - Faux Batik - Shibori - Silk Painting - Carefree Quilting - Felting - Slide Talks
---
GRADIENT MAGIC
paint & piece the same day!

In the morning:
Turn fat quarters of quilt fabric into smooth gradient pieces of dark to light color and also from one color to another. Learning this is a snap with my fast, easy dye painting technique. (You may have read about it in the Dec 09/Jan10 issue of Quilters Newsletter.)

After lunch:
Sew up quick patchwork designs with the morning's fabrics. Discover strategies for making the most of continuous gradient fabrics. See how these fabrics can add sparkle to any quilt.



"If you have ever yearned for an ombre in a unique or hard-to-find color combination this easy technique will have you dyeing your own in no time!"

Quilters Newsletter, Dec/Jan 2010
---
Faux Batik
Create your own batik-style fabrics

In the morning create mottle dyed fat quarters. In the afternoon printand "discharge"images on the fabrics.
"Joy-Lily's work is beautiful--containing brilliant color, exceptional composition and wonderful light dark patterns. In addition, she is a superb teacher-highly organized and very sharing."
Sherrill Kahn, author, Creative Stamping With Mixed Media Techniques
---
SHIBORI SCARF DYEING

Shibori, the Japanese grandmother of tie-dyeing, is shaped resist dyeing, typically by immersion in a single color. But painting colorfast dyes directly onto wrapped silk is faster, neater, and allows multiple colors on the same scarf in one application. Discover the effect of different kinds of folding, binding and painting. Traditional patterns will be demonstrated, but the emphasis will be on creativity. All materials included.
(4 hours)

"I loved Joy-Lily's class; it was very liberating."
Carol Casaccia, president
Peninsula Wearable Arts Guild
---
STAINED GLASS SHIBORI
This is an exciting new way to create shibori on silk scarves! Start by free-painting the silk. Then fold and clamp it. It goes into a pot of black dye and comes out with vibrant colored shapes on a black background. $20 supply fee per person includes special instant-set dyes and a silk scarf. (4 hours)

"I love this shibori technique. It's part planning and part wonderful surprises!"
Sadie Cooper
Dyeing for Crafters class
---
SILK PAINTING

Learn all you need to paint silk: how to mix dyes, apply/remove resists, paint a variety of effects, steam set your work for colorfastness. Create a gorgeous original silk scarf. If you're a beginner, this sensual and goof-proof medium will bring out your inner artist. For experienced artists, silk painting is a satisfying new medium for expressing yourself spontaneously.
For groups up to 12 participants. One-day workshop (6 hours) or two days (5 hrs each)

"We all enjoyed the silk painting class and appreciated Joy-Lily's willingness to share her knowledge and enthusiasm for silk painting and her tactful guidance."
Jane Swenson, workshop coordinator
Sacramento Center for Textile Arts
"I loved Joy-Lily's class; it was very liberating."
Carol Casaccia, president, Peninsula Wearable Arts Guild
Isn't dyeing messy? Not in my classes! These workshops don't require a lot of fluids; kitchen-like spaces are best, but I can teach them safely in carpeted rooms, protecting surfaces with my tarps. I also bring aprons, gloves, and tip-resistant containers.
---
CAREFREE QUILTING

This workshop focuses on any project from Joy-Lily's book, Carefree Quilts - A Freestyle Twist on Classic Designs (examples) Discover how much fun it is to quilt in the "perfection-free zone" where seams may wander and points are not always sharp. A table runner makes a great project to finish in one day, or stitch up the first few blocks for a quilt.
(6 hours)
See new Be a Carefree Quilter digital slide talk
Take a look at my youtube video too

"Joy-Lily's weekly quilting class is one of my most cherished activities. I love her carefree style and unique approach to this art. She lets me spread my wings even when I don't have a clue what I need to do. I have learned so much from her! I find much joy in meeting such wonderful women there too. " Karen Warner, quilting student
---
HOW THE IMPRESSIONISTS FELT

Using cropped bits of Impressionist paintings as inspiration, we'll simulate brushstrokes with wispy bits of dyed wool fleece. This is similar to what the painters actually did to gradually build up shimmering transulcent images on their canvas. Our canvas will be white felt. A little needlefelting will keep the brushstrokes anchored. Then we'll wet felt the wool painting into a permanent work of art. (5 hours)

"Joy-Lily always makes it safe to leap out of the box and try something new"


Louise Reiter, fiber art student
| | |
| --- | --- |
| | |
---
MAKE A FELT PURSE

Wet felting is becoming very popular. It's almost magic when you turn a pile of wispy wool fiber into a strong 3-dimensional object with just your hands! Starting with merino wool fleece, we'll build felt bags. Make yours unique by adding different colors of fleece right into the construction or add later by needlefelting. Roll and attach a handle, and wear it home. (5 hours)

"Felting a purse and being able to complete it in one class was extremely exciting! Joy-Lily's class was informative and gave me confidence to pursue more felting projects."


Barbara Beardsley, surface design student
"Joy-Lily is a kind and patient instructor who created a lively, cheerful atmosphere in her silk painting and shibori workshops as she shared her considerable experience and knowledge. We look forward to her felting workshop."
Norma Gamroth, program director - Haute Couture Société of Stockton
FELTED VESSELS
Creating solid felt shapes from wool fleece using special needles is easy to learn and fun to do! In this workshop, students will build soft sculptural vessels from rainbow-dyed wool fleece using techniques such as coiling and slab work.Contruct your basic form, and then embellish it. Bring small lightweight objects (feathers, bark, beads, etc) you may wish to include in your vessel. Wet felting at the end is optional. Wool dyeing instruction will also be covered. Forms can range from creations of bowls, baskets, nests, pots or even jellyfish; it is up to you!
---
Repurposed Silk Collage
Vibrant colors and shimmering fabrics are more exciting to collage than paper. In this workshop, you will use provided recycled silk (some of it hand-dyed) to snip up and assemble fabric collages. Create abstract, representational or stained glass-style imagery. Collage is an especially forgiving art form . You can re-arrange the of pieces until it's just right. Then glue your art together smoothly and easily with a special dry, heat-set adhesive and an iron.

More workshops!
---
Joy-Lily's Slide Talks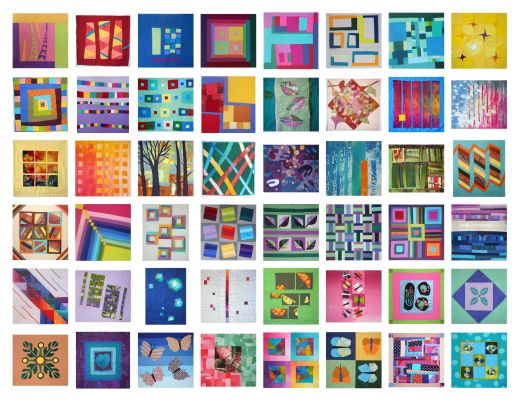 101 Quilts Later:
Why I Did It
& What I Learned
The tradition of creating a series of 100 related art works goes back at least to 1830's Japan where several blockprint artists competed to create 100 views of local sights.After hearing Sonia Phillips speak about how and why she sewed 100 dresses I got an itch to create 100 of something myself. When the San Francisco Quilt Guild requested small quilts for premature babies at Kaiser Hospital I quickly whipped up a few 24" x 24" quilt tops. What fun! I challenged myself to make 100 tops,and see what this process taught me. By quilt # 9, I realized that this was also a design project.
See the quilts and hear about the trials and victories of my quilting journey.

---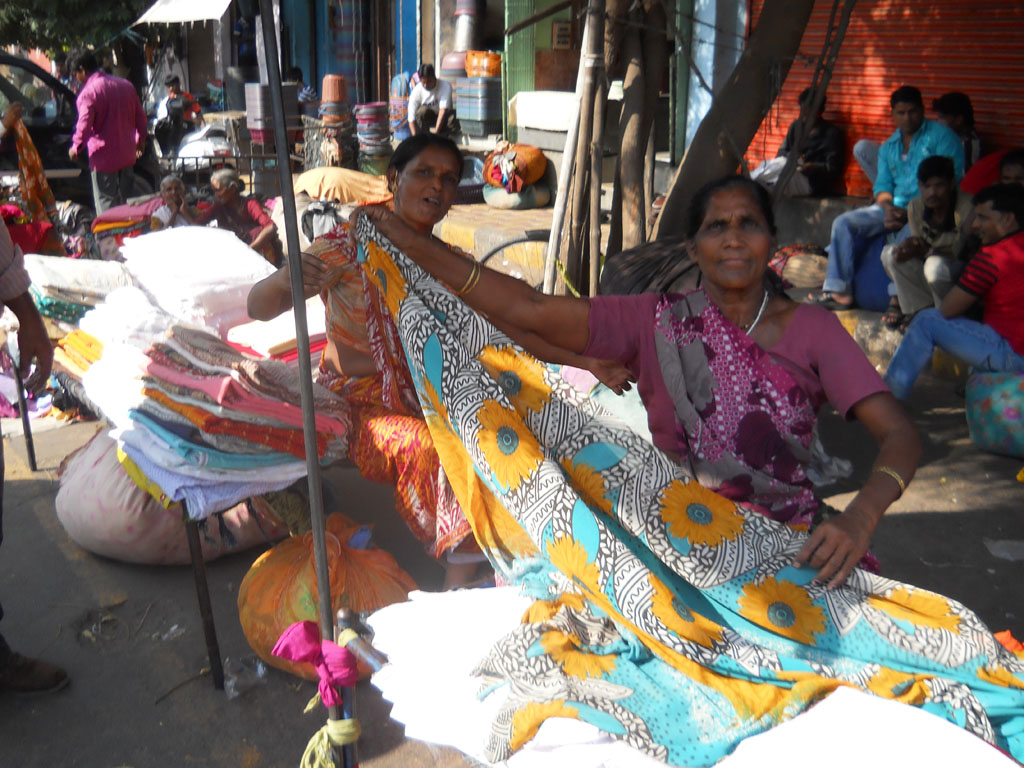 FIBERJOY GOES TO INDIA
I recently went on a solo textile tour of North India - Gujarat and Rajastan. I visited textile artisans of all kinds including weavers, fabric painters, dyers, embroiderers, felters and more. I met dealers in antique textiles and saw amazing quilts and clothing. My talk brings you a taste of the traditional clothing still worn in India, how it's made and what everyday life is like in this part of the world where hand made textiles are still a big part of life. Included in this digital slide talk are artisans working, clothing, accessories, quilts, street markets and lots more.

This richly visual trip also inspired a new workshop called Stained Glass Shibori Scarves. It is based on tie and dye methods that I saw young Indian designers using as they updated traditional methods.

(This talk is suitable for quilt groups, wearable art groups and the armchair traveling public.)
---
DYEING TO TELL YOU
is a lively and informative slide talk about dyes and colors and my art career. It is suitable for quilt guilds, wearable art or surface design groups and anybody who likes to work with fabric. It is accompanied by slides of my wearable art, silk paintings, batiks and quilt art, plus diagrams demystifying how dyes work and how colors blend. This talk has valuable information for painters, "dye-shy" stitchers and experienced dyers. Topics covered include:

Which dyes work best, and which to avoid
How to use dyes safely
How to dye in your washing machine
Where dye colors originally came from
How to mix colors brilliantly
How to approach creativity, two methods
Where color trends come from
How dyes have changed our lives
This talk also touches on sex, drugs and good books

(A version of this talk focusing on silk painting is avaiIable for art guilds)
"Joy-Lily's lecture was fun and full of valuable information. It piqued my interest in learning more about color and dyes to create my own fabrics for quilts and clothing."


Karen Boutte, workshop coordinator, Valley Stitchery Guild
---
BE A CAREFREE QUILTER
Available in mid-2013, this humorous and revealing digital slide talk inspired by Joy-Lily's recently published book, Carefree Quilts - A Freestyle Twist On Classic Designs, will invite all levels of quilters to throw down your pins, quit matching corners, miss the points, and create more exciting fabrics for your quilts. When you take a step or two down this slippery, pin-strewn slope, you might wind up in the Valley of the Art Quilters!
What are quilters' rules?
Find your comfort zone between following and breaking rules
How to "improve" quilt blocks
How to choose fresh colors
Ideas for updating traditions
Astonishing embellishments
Some quilts are bedcovers; some quilts are art
Easy ways to make original fabrics for your quilts

What program planners say about Joy-Lily's workshops and talks:

"Joy-Lily is a terrific teacher. She is patient and reassuring to the novice, inspiring and instructive to the experienced student. Her dyeing workshop for our guild was excellent."


Virginia King, president, Contemporary Quilters & Fabric Artists
RATES

Lecture/slide show: $400
Workshop rates vary with size and length of class. Please contact me for a quote.

(If over 60 miles from San Francisco, transportation costs and local host needed.)

WORKSHOPS TO GO

Want a workshop but don't belong to a guild? I've taught in back yards, community centers, art classrooms, church kitchens and private homes. Gather a few friends, and I'll bring a workshop to you. Contact me for details.

Email workshops@Joy-Lily.com or call (415) 826-8248
back to top - Workshops: Dye & Discharge - Shibori - Silk Painting - Carefree Quilting - Slide Talks