Home -- Workshops & Slide Talks -- Supplies -- About the Artist -- Book
Galleries: Scarves / Shawls -- Quilts -- 'Improvisational Quilts -- Silk Paintings -- Silk Quilts
2017 Spring Fiber Art Classes with Joy-Lily
color code for class titles: red = local ongoing class, green = one-day local workshop, turquoise = potential workshop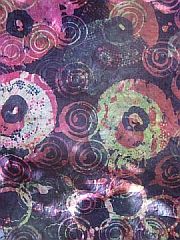 Dyeing For Crafters with Shibori
Thursdays 10:00 AM - 2 PM. 8 classes
June 8 - August 24, (no classes 6/2/, 7/6)
South San Francisco Parks & Rec, 33 Arroyo Dr. near El Camino.
It's easy to color up wool for your knitting, felting or crochet work and to create amazing shibori (Japanese tie-dyeing) patterns on silk scarves and cotton yardage for quilting and sewing projects.Try out several shibori techniques like wrapping, stitching, clamping and the "rope trick". We'll experiment with acid dyes for hot water and silk painting, fiber-reactive dyes for cold water and natural dyes such as marigolds, henna, cutch, annato and madder. There's always an indigo pot on tap and a hot wax pot for batik. Natural dyes are full of surprises such as how some dye colors change when the water is more acid or more alkaline. Experience dyeing fiber is not necessary for this class.A sense of adventure is a plus. Pre-registration required.$147 (discount to seniors and SSF residents) +$25 supply fee that includes some white wool fleece or yarn and cotton yardage to dye.
Non-SSF residents may sign up starting May 15. Register online using course # 165087 at http://www.ssf.net or call 650-829-3800.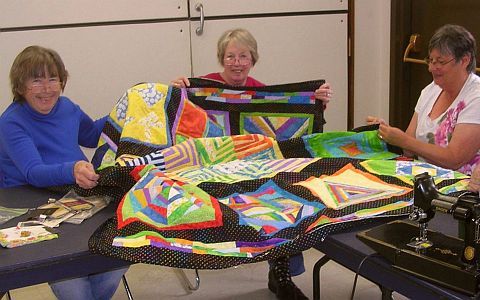 Quilting Clinic in San Francisco
Wednesdays 2:00 - 5:00 PM, Drop in classes in Bernal Heights, $10.
Enjoy the company of a friendly group of quilters of all levels. Get support, advice and space to finish ongoing projects, or to try new techniques. Call 415-826-2848 for directions.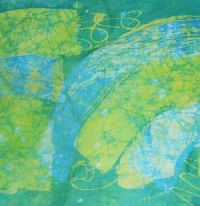 Batik A Silk Scarf Workshop,
May 21, Sunday 11AM - 4 PM
Palo Alto Art Center, 1313 Newell Rd.
Discover how to put hot wax and cold dye onto silk to get that unique crackled effect.Try out different ways to apply the wax: stamping, brushing,layering, and freehand drawing, for surprising results. Dyes are colorfast and wax will be removed in class. Go home with a completed original silk scarf. Class fee $120 ($105 for PA residents.)All materials including a scarf are provided for $25 materials fee. Register on line at https://apm.activecommunities.com/paloalto or call 650-329-2366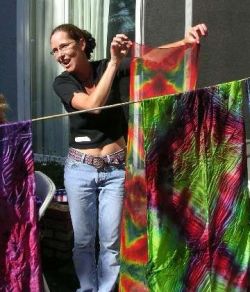 Make Your Own Class!

Shibori Scarf Party

Get a group of your friends to get together in your home and create beautiful, original scarves with this fascinating, goof-proof textile technique. Make gorgeous silk scarves while learning a new art form. (Fiber art experience is not necessary.) With 8 attendees paying $50 each including the first silk scarf, you, as host get the class free.

Call me to schedule a Shibori Party: 415-826-8248.

Indigo To-Go Party

Get a group of friends together in your back yard. We'll quickly mix up a vat of pre-reduced indigo. Dye dramatic, blue and white patterns on your linens, quilt fabric and clothing using a variety of shibori techniques: clamping, tying, pole wrapping and "the rope trick" Watch your cloth turn blue in the air like magic!

With 8 attendees paying $50 each, you, as host, get the class free. Call me to plan an Indigo Party.
---
For information on any class, or to register, (unless otherwise noted) contact: classes@joy-lily.com 415-826-8248.
See photos of these classes and more on the workshops page.
back to the top