Home -- Classes -- Workshops & Slide Talks -- Supplies -- About the Artist -- Book
Galleries: Scarves / Shawls -- Quilts -- Improvisational Quilts -- Silk Paintings -- Silk Quilts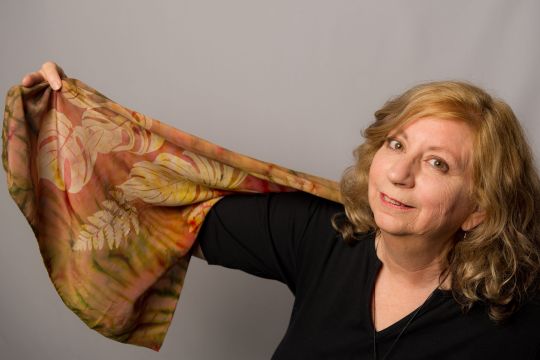 About the Artist
My art falls into the category "surface design." I am a silk painter, dyer, quiltmaker and fabric printer. My choices of imagery come from my deep respect for, and fascination with the natural world. I am continually surprised and delighted by the astonishing variety, beauty and fecundity of life around us. Shells, flowers and leaves offer endless choices of colors and forms to celebrate. I want to remind my viewers that our precious and diminishing ecosystems are also beautiful.
My work has been exhibited in New York, Washington DC, Los Angeles, San Francisco, Santa Fe, Hannover Germany and Beijing. For 11 years I was artist-in-residence, through the California Arts Council, at 30th Street Senior Center in San Francisco, working with elders in textile media. I currently teach fiber arts through adult education and through quilt and art guilds.
I believe that we are all born artists. A lot of people had their natural creativity stifled at an early age. Through teaching I encourage adults to experience the joy of fashioning original and meaningful products with their hands. My teaching style is collaborative and playful. I offer projects and techniques that are goof-proof to assist students in creating work they will love, on the very first try.
Contact me at joy@joy-lily.com.
Webmaster at chris_wayan@yahoo.com